Dough Ingredients
5fl oz water
1tblsp Olive Oil
8oz strong white flour
1/2 tsp dried yeast
1/2 tsp sugar
1 tsp salt
He puts the dough ingredients in the order listed into a bread machine and selects the dough setting. He tells me that back in the old days before I was born he used to kneed it by hand and leave it torise in the airing cupboard.
While this is happening I oil a baking sheet. We have a pottery pizza plate, but it's pants as it doesn't cook the dough properly.
Tomato Sauce Ingredients
1/2 onion
Squeeze of tomato puree
1 tin chopped tomatoes
Other Ingredients
Mozzarella
Salami, though Dad says you can use other toppings.
I like Chorizo.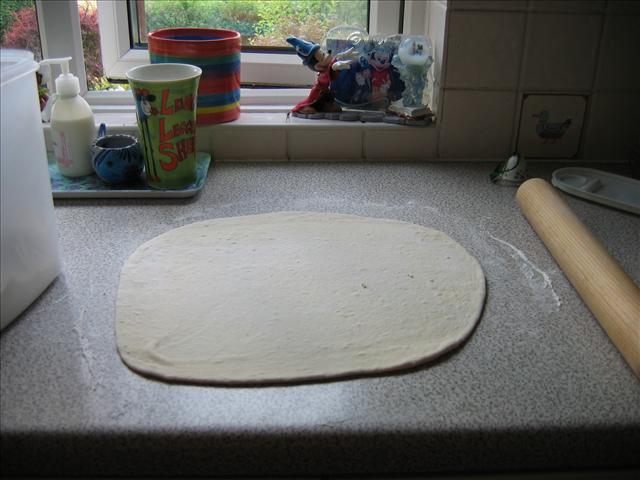 You also need to make the tomato base. Dad usually starts it early, but sometimes we get home late from geocaching and he makes it quickly. Finely chop 1/2 an onion, sweat it off for a few minutes, add some tomato puree. Give it a good stir. Add a tin of chopped plum tomatoes. Reduce it down so that it's quite dry, but still pliable. This can take a while. If you're low on time then just use the tomatoes and don't add the juice. Once in a time emergency Dad used a frying pan. He said it reduces quicker. Something about surface area.
You don't need to blitz it, but you can if you like. It's fun!
Dad sometimes makes a batch and freezes it.
Get the oven to 220c and then roll out the dough. Put it on the sheet and spread the tomato base on thinly. Put on thick chunks of Mozzarella. Give it 5 mins cooking then add the salami (not too thin) and cook for another 10 mins. Don't overcook as the secret is to get the dough fluffy and soft - not hard and crisp.
Pizza Mozzarella is good as the type in milk can be too runny.
Dad likes cherry tomatoes, ham and fresh pineapple or chilies. I like salami, salami and salami.
The pizza must be accompanied with Coke (Stella or wine for the grown ups) and you must watch Red Dwarf while eating.